The Application for Membership is closed now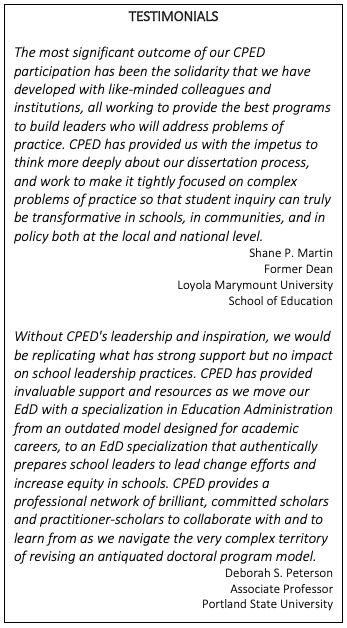 The Carnegie Project on the Education Doctorate (CPED) invites applications to join its 125+ member institutions in transforming the Professional Practice Doctorate (EdD) into the degree of choice for aspiring leaders. Beginning with 25 institutions in 2007, CPED has brought together administrators, faculty, and practitioners from across the country and the globe to rethink advanced education leader preparation and doctoral program development. See how CPED has benefitted its members in this short video.
The Carnegie Project on the Education Doctorate (CPED) envisions a future where equity-minded educational professionals lead lasting and positive change for the learning and benefit of everyone. 
The Mission of the Carnegie Project on the Education Doctorate (CPED) transforms the advanced preparation of educational professionals to lead through scholarly practice for the improvement of individuals and communities. 
Broad and diverse CPED membership is central to its success. We seek members committed to reclaiming and enhancing the professional doctorate in education. We invite you and your institution to submit an application (requirements below) for membership. Applications are due May 2, 2022.
CPED LEADERSHIP
                                          David Rock, Chair, University of Mississippi
Gaëtane Jean-Marie, Chair-elect, Rowan University
Carole Basile, Treasurer, Arizona State University
Stanton Wortham, Secretary, Boston College
David G. Imig, Immediate Past Chair, University of Maryland
William Crawley, University of West Florida
Robert Floden, Michigan State University
Ted Hamann, University of Nebraska
Grant Hayes, East Carolina University
Valerie Kinloch, University of Pittsburgh
Lisa Kirtman, California State - Fullerton
Paul LeMahieu, Carnegie Foundation for the Advancement of Teaching
Kofi Lomotey, Western Carolina University
Marvin Lynn, Portland State University
J
ill A. Perry, Executive Director
---
BENEFITS OF MEMBERSHIP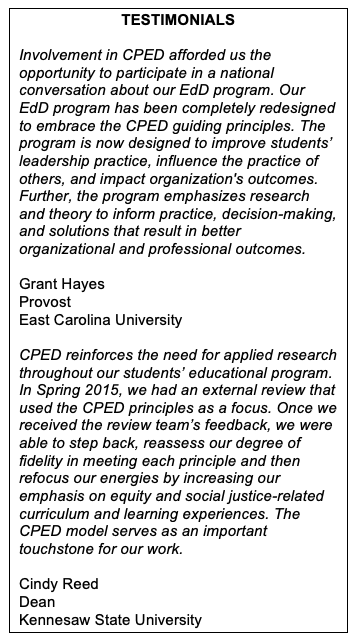 CPED represents a unique approach to doctoral program learning through continuous improvement and interaction with colleagues across a broad network of schools of education. CPED faculty meet virtually and at annual Convenings for collaborative learning and dialogue to advances innovative and effective EdD programming. Professional development opportunities, coupled with a rich website and member-driven activities, support member institutions to develop and promote their programs.
Professional Community: The number one benefit of CPED membership is access to supportive and resourceful colleagues from 125+ schools of education dedicated to transformative work.  CPED members can access a website, which offers a deep library of a) program design and development resources showcasing curricula, signature pedagogies, advising/mentoring strategies, approaches to writing support, evolving models of dissertations-in-practice, as well as program assessment tools, b) publications and white papers on EdD programming, and c)a materials and video archive from monthly special topic webinars and annual convening sessions.
Convenings:  Annual convenings are a signature CPED activity. Convenings include pre-convening workshops, full consortium sessions, guest speaker sessions, as well as Learning Exchanges and CIGS (CPED Improvement Group).  *Each convening has a specific learning theme that members prepare for; they arrive ready to share ideas, give feedback, and collaboratively formulate action steps for improvement of their programs. Convenings are vital to quality EdD program development and the success of CPED as an organization. CPED members are expected to actively engage in Convenings.  
Publishing Opportunities: CPED's Impacting Education: Journal on Transforming Professional Practice, is an open source, peer-reviewed journal that assists member in producing and disseminating user knowledge for EdD program design and effective student learning experiences.
Awards: The consortium annually recognizes members and their students with three awards: Program of the Year Award, Dissertation in Practice of the Year Award, and the David G. Imig Distinguished Service Award. Through evaluation by a committee of peers, each award honors outstanding work and recognizes the impact of CPED on improving professional preparation. 
How CPED has Impacted Members from CPED Initiative on Vimeo.
---
MEMBERSHIP REQUIREMENTS
CPED membership requirements are outlined below. Upon admission, new members sign a  Commitment to Engage and Change.  Please review this Commitment to be sure your institution is willing and able to engage in this manner.  Note: membership is by institution, not by program. All EdD programs at the institution are considered members if admitted. 
INSTITUTIONAL REQUIREMENTS:  Applicants must be: a) a not-for-profit institution, b) accredited by a U.S. regional accrediting agency and in good standing or for non-U.S. institutions, an equivalent evaluative body will be accepted.  
Institutions must also demonstrate that they have necessary resources, including:
Leadership: A Dean, chair, and faculty leader prepared to support and lead the EdD program.
Personnel:  Faculty and staff resources matched to program enrollment targets and EdD program demands.  
Authority: Faculty governance that allows for and fully supports program changes.
Budget: Adequate funding for:

Annual CPED dues for minimum three years.
Faculty and student participation in annual CPED convenings.
Program (re)design and implementation
Supports to facilitate program developments (e.g., release time, graduate assistant).  

Facilities

: Adequate space and technology needed to redesign the program.
PROGRAM REQUIREMENTS:  Program must be housed within a school, college, or department of education and be committed to the CPED Framework.
All programs must demonstrate strong Dean, Chair backing as well as sufficient faculty to deliver a quality EdD program. 
First time EdD programs must demonstrate necessary approvals for granting doctoral degrees (institutional and state, if necessary) and provide clear information on design, implementation, and enrollment timelines in their application.  
Active Participation:  Member programs are expected to actively engage in the CPED consortium by: 
Sending at least two prepared individuals to annual convenings.
Routinely sharing ideas, information and plans with colleagues, Chairs and Deans.
Engaging in continuous program improvement and exchanges with CPED colleagues.
Sharing updated program information and data with CPED.
MEMBERSHIP FEE: An annual fee will be charged to each member institution upon acceptance and every year thereafter. The current annual membership fee is $2,500 USD. 
APPLICATION FEE: $300 USD (non-refundable)
---
APPLICATION REQUIREMENTS 
The CPED consortium looks forward to adding institutions committed to its Framework. Interested institutions should submit an application that includes: 
A completed application 
Supporting materials as needed
Letters of support
Application fee
Applicants may be asked to participate in a 30-minute phone or video interview with the Executive Director, Board Member, or CPED Member Committee representative.

General inquiries should be sent to [email protected].
Important 2022 Dates & Information
May 2nd: Application materials are due
May 3rd- May 23th: Committee Review & Potential phone/video interviews with faculty & Dean
June 3rd: Decisions announced
July 1st: Annual Membership Begins
Oct 12-14th: Pittsburgh PA Convening (all new members required to attend)
TO APPLY: Please submit APPLICATION and supplemental materials (no more than 10 pages, with clear headings and page numbers, submitted as a single PDF). Please refer to the CPED Principles Rubric Prototype when completing the application. 
---
For More Information
Have questions about CPED's new member application?